Excellent Authors
Trusted Peer Review
The Cornerstones for Trusted Science
More than 50 million researchers from around the world download articles from ACS Publications each year, relying on us to provide high quality, trustworthy information. Attracting high quality authors and the rigorous peer-review process of ACS journals forms the foundation of this trust, ensuring fair and constructive feedback from leading scholars. Commitment to quality authors and peer review enables ACS to produce a portfolio that generates more citations on average than portfolios two to three times its size.
Rapid and Transparent Visibility
Letters-format journals has allowed ACS Publications to shorten the time from submission to publication to as little as 4 weeks, and Just Accepted manuscripts give authors the option of having unredacted versions of their manuscripts posted online within 24 hours of acceptance. Once published, each article includes side-by-side statistics for readers and authors to help them understand the visibility of the article. This brings authors' work rapid exposure and gives the scientific community access to valuable information faster than ever before.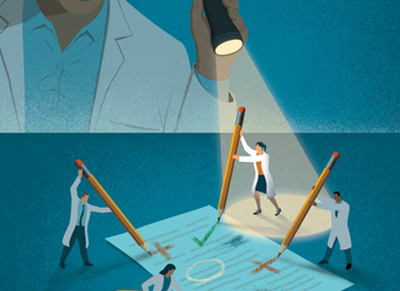 Raising the Standard
Peer review raises the standard for research. Knowing their work will be scrutinized ensures authors carefully consider their work before submitting to a journal, and reviewers' suggested revisions improve the quality of the research before publication. A study by Wellcome and Gallup showed that trust in scientists has increased between 2018 and 2020, and reliable peer review is necessary to making sure published science is trustworthy (Elsevier and Sense about Science).
At ACS Publications, we find the best reviewers available to ensure articles are top quality and trustworthy for our readers.
Value of Peer Review
The rigorous peer review process at ACS Publications has helped our authors garner more citations on average than any other publisher, and the number of citations continuously grows year after year. "To see strong growth in output and citations…is a testament to the dedication of our authors, editors and peer reviewers and the trust they place in our journals," says Sarah Tegen, Ph.D., senior vice president, ACS Publications Division.
Our authors and reviewers are the reason ACS Publications journals are among the most trusted, most cited, and most read in chemistry.
Resources for Authors
Better support for authors leads to better content for readers. From tips on how to write an article to finding the right journal in which to publish, ACS provides information and services to help authors get published as quickly as possible.
Resources for Peer Reviewers
Peer review is an essential component of scientific research and a crucial step in the publishing process. ACS provides information and training for peer reviewers.