Broad Global Exposure
Global Readers & Global Authors
With readers and authors at more than 6,000 institutions in more than 75 countries, ACS Publications delivers the global perspective needed to perform research and guide organizations in today's dynamic environment.
Global Readership
Research spending around the world increases yearly, and it's crucial to have access to the latest discoveries regardless of where they're made. As the scientific community becomes increasingly global, international reading and collaboration accelerates discovery by bringing together scientists whose work is complementary.
At ACS Publications, we empower readers around the world to access articles. In fact, more than 77% of article requests originated outside of North America in 2021.
Editorial Offices Worldwide
Regional differences in research and publication requirements require an on-the-ground approach to support our customers, authors, and readers.

In addition to our headquarters in Washington, D.C., ACS Publications staff are based all over the world, with hubs in Beijing, Delhi and Oxford delivering resources, programs, and initiatives specific to local scientific communities.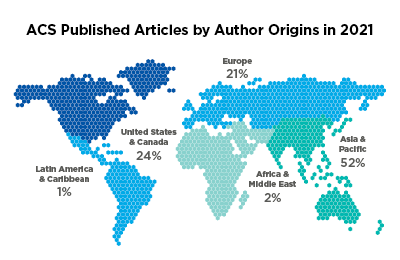 Global Authorship
ACS Publications authors are based all over the world. Journal of the American Chemical Society Editor-in-Chief Erick M. Carreira says the growing geographic diversity of chemistry journals is one of the most dramatic changes that has taken place in scientific publishing over the past 20 years. "It is a testimony to the vibrancy of the discipline that continues to grow and evolve in exciting new directions."
ACS Publications Events
Discover ACS Publications global events including in-person, virtual, hybrid, and even on-demand. Take a look at some of the exciting upcoming and on-demand recorded events, or browse our event collections below.
Find Events
ACS on Campus
ACS on Campus is the American Chemical Society's initiative dedicated to helping students advance their education and careers. We provide resources for you to develop your skills and partner with schools around the world to bring leaders in chemistry, publishing, career development, research, and science communication right to your doorstep. At our free events, you'll network with top professionals, local experts, your peers, and more!
Find out more about ACS on Campus
Additional Options for Readership
In addition to subscription options for access and multiple open access options, including Transformative Agreements, ACS Articles on Request allows authors to share up to 50 free downloads of their published articles. This link is valid for the first 12 months following online publication, and can be shared via email or an author's website.
Looking to buy a single article? Visit the page for the article you'd like to view and click "More Access Options". From there, follow the prompts to purchase.
Learn How ACS Offers Research on Every Topic Influenced by Chemistry