Academic Librarians
Providing trusted knowledge solutions
As a librarian, you're a key stakeholder in keeping research quality high at your institution and effectively supporting the research workflows of your entire academic community. You manage vast resource collections and help drive new knowledge discovery. Here are a few ways we can help.

Sign Up for the

Library Elements Newsletter Sign Up
Solutions to educate and inform academic communities
As the role of the library expands beyond simply providing resources and information, ACS Publications is committed to supporting you with solutions to educate users with the information they need when they need it.
ACS Guide to Scholarly Communication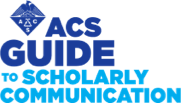 Help students learn how to write scientific papers, find key tips for notating concepts that are difficult to articulate, or publish their first journal article with the ACS Guide to Scholarly Communication.
View Guide
ACS In Focus
Introduce budding scientists to emerging interdisciplinary and chemical topics and help students grasp the real-world impact of science with ACS In Focus.
Learn More
ACS Institute Logo
Explore ACS Institute, featuring interactive course content to fit a variety of needs, including lab safety, chemistry in practice, technical skills development, and scientific communication.
Explore Institute
Research that is most trusted, most cited, and most read
ACS Publications' commitment to publishing high-quality research continues to attract impactful research from top authors around the globe, and articles published with ACS Publications average more citations than those published anywhere else. View our highlights at the link below.
2021 ACS Publications Catalog
Support your institution's open access publishing goals
As funders push for the acceleration of open access publishing, librarians play a more active role in implementing institutional open access agreements.
ACS provides a variety of ways for institutions to support the open access publishing needs of their communities. Explore our open access journals, open access solutions including transformative ACS Read + Publish agreements, and flexible open access publication token packages.
Visit the ACS Open Science Resource Center for more information about ACS's commitment to open science and open access publishing.
What Our Customers Say
Our Chemistry Department is a strong department with a relatively large number of majors. This strength is largely due to the amount and quality of undergraduate student research which is often done in collaboration with faculty. Consequently, providing access to ACS journals is crucial to the library's support of the Chemistry department—both faculty and students. To put it another way, even though we only offer an undergraduate Chemistry program, we cannot 'get by' with providing access to a set of inferior chemistry journals. ACS journals are a must-have for our faculty and students."
Bruce Kocour Dean of Library Services, Carson-Newman University