For the most trusted content in science,
Top scientists choose ACS Publications
Interdisciplinary Solutions
Chemistry is the central science because it touches every other scientific discipline. From cures for diseases to high-tech materials, the research in ACS Publications' portfolio is as unique and varied as the scientists who read them and impacts nearly every scientific discipline, including medicine, nanoscience, engineering, environmental studies, computer science, telecommunications, physics, and far beyond. In fact, 61% articles that cite ACS Publications are classified as outside the core chemistry categories.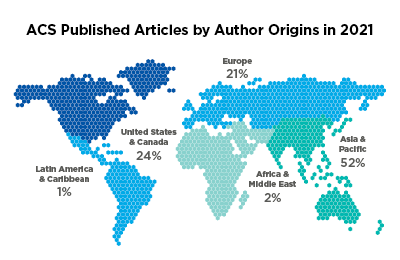 World-Changing Research
To change the world, scientists need a global perspective. With a readership and authorship spanning more than 6,000 institutions in 75 countries, ACS Publications delivers the global perspective needed to perform research and guide organizations in today's rapidly changing environment.
Learn More
Life-Saving Research
Many medical researchers are focused on ways to save patients' lives. For some, the barrier is cost of medical care; others focus on cutting edge technology to find a novel solution to save a life or preserve quality of life. From targeted reagents for disease detection to 3D printing tissue, researchers depend on ACS Publications' content to fuel life changing research.
Do you have a question about ACS Publications?
Enabling Next-Generation Research
One key to staying ahead of competitors is making sure researchers can access the newest, most novel research. ACS Publications boasts some of the fastest times to publication in scientific publishing. The ongoing introduction of Letters-format journals has allowed ACS Publications to shorten the time from submission to publication to as little as 4 weeks. Our As Soon As Publishable (ASAP) program makes the version of record of every article available days after the article's acceptance, so an author's work does not need to wait for an issue to publish. This brings authors' work rapid exposure and gives the scientific community access to valuable information faster than ever before.
"I chose ACS journals because it has high-quality peer review systems... I trust ACS journals"
Hauh-Jyun Candy Chen, Ph.D. National Chung Cheng University

"ACS journals are very known for their quality and impact. Their fair and rapid publication process."
Matthew Chang, Ph.D. National University of Singapore

"ACS journals in the field of medicinal chemistry are for sure the most read in the world."
Stefan Laufer, Ph.D. Universität Tübingen
Power your research with the best science
Join the ranks of the world's leading scientists, including more than 40 Nobel Laureates who chose ACS Publications. ACS journals have earned an impressive median Impact Factor of 5.780, and more than 20 of our indexed journals rank in the top 10 in their topic area.
Chemical Reviews, with an Impact Factor of 72.087, is ranked 18th out of the nearly 13,000 journals indexed in Journal Citation Reports and is the top-ranked journal in Multidisciplinary Chemistry.
Excellent Authors, Strong Reviewers
Finding excellent authors and reviewers is a key to developing trusted content. ACS Publications not only publishes top authors, including more than 40 Nobel Laureates, we also provide upcoming professionals services to help them develop into the top quality authors and reviewers needed to uphold the high standards science demands.
About ACS
ACS Publications is a division of the American Chemical Society (ACS), the world's largest scientific society and one of the world's leading sources of authoritative scientific information.
A nonprofit organization chartered by the United States Congress, ACS is at the forefront of the evolving worldwide chemical enterprise and the premier professional home for chemists, chemical engineers, and related professionals around the globe.
The Society publishes numerous scientific journals and databases; convenes major research conferences; and provides educational, science policy, and career programs in chemistry. ACS also provides grants for students and gives more than $20 million every year in grants for research in the chemical sciences. ACS plays a leadership role in educating and communicating with public policy makers and the general public about the importance of chemistry in our  lives. This includes identifying new solutions, improving public health, protecting the environment, and contributing to the economy.