ACS Digital Books
A library of information at your fingertips
ACS peer-reviewed digital books help drive interdisciplinary research. Whether you're expanding your understanding of fundamental and emerging science topics and techniques or bridging the gap between textbook and journal articles, these books provide the flexibility to read them wherever you are.
Attracting the Best Authors
ACS is committed to finding the world's leading scientists to be authors for our books. ACS eBooks authors include 42 Nobel Laureates and editors connect different perspectives on the same topic to advance research. ACS In Focus authors are leaders in emerging topics and often partner with a Ph.D. student to author the introductions, ensuring the books reach topic newcomers.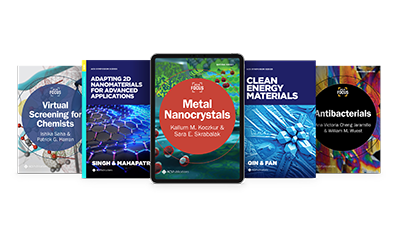 Driving Interdisciplinary Research and Innovation
Researchers can stay up to date on key advancements or develop new skills through the use of digital books. From a graduate student who needs to bridge the gap between textbook and journal article to an established researcher who wants to add a new competency to their skill set, discover the types of books available to meet the various needs of the chemistry community.
To find out more, download our digital books white paper.
Download White Paper
What Our Customers Say
The University of Alberta Libraries is one of the largest academic library systems in North America, and we support programs in all areas of the Physical and Natural Sciences and Engineering, as well as multiple programs in the Health and Agricultural Sciences. The interdisciplinary nature of the ACS Symposium Series makes it a valuable resource for students and faculty in all of these programs. We also have users at three satellite campuses who can now access this material much more easily."
Elizabeth Wallace Collections Manager, University of Alberta Libraries
A series like ACS In Focus would have been very beneficial to me when I first started grad school, so I can understand its importance for others who want a concise and broad overview of a particular field or topic."
Joshua Shutter Harvard University
Machine Learning in Chemistry is highly demonstrative of the wide applications of ML in the chemical sphere. It provides the tools and background to guide you to your own decision relevant to your particular work. It was written with practicality in mind, it presents the history, benefits, concerns, warnings, and critiques of ML in order to allow the reader to come to their own conclusions."
Mary Kate Caucci Fordham University