ACS Essentials of Lab Safety for General Chemistry
A course that prepares students to enter the general chemistry lab.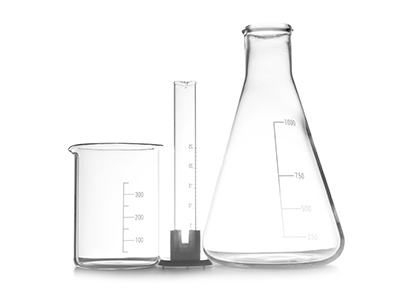 Why ACS Essentials of Lab Safety for General Chemistry
ACS Essentials of Lab Safety for General Chemistry is a 90-minute online course that provides students with the vital concepts of chemical safety and prepares them for their first experiment in the general chemistry lab.
The course consists of 5 instructional modules that introduce the RAMP framework and walk students through the four principles of RAMP and the last summary module that assess key points presented in the previous modules.
Learning Objectives
Identify learners' role in maintaining a positive safety culture
Understand GHS pictograms, labeling, and safety data sheets
Recognize common laboratory hazards
Assess and minimize the risks of those hazards using best practices
Prepare for and respond to unplanned events and emergencies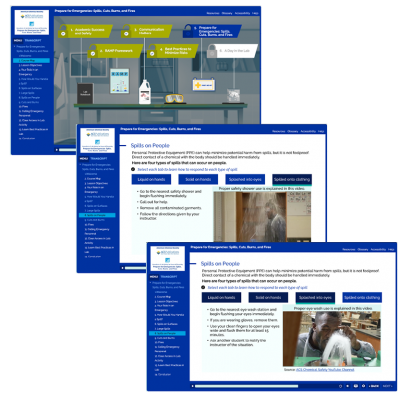 Content Highlights
Introduces the RAMP framework and walks students through the four steps of RAMP: Recognize hazards, Assess risks, Minimize risks, and Prepare for emergencies.
An end-of-course capstone exercise to assess understanding of foundational lab safety protocols
Save faculty members' time for teaching and novel research
Prioritize lab safety as a core competency across a wide range of learners
Equip every member in the lab with critical risk-based safety concepts and skills
Increase the overall awareness of the potential hazards present in the lab
Painless updates between versions to ensure content relevance
Trusted Subject Matter Experts
Safety is a core value of the ACS across all divisions, including Membership, Education, and Publications. In creating ACS Essentials of Lab Safety for General Chemistry, we worked directly with top safety professionals to develop a course to more effectively teach students to be safe in the lab.
Craig Merlic, Ph.D.
University of California, Los Angeles

Professor of Chemistry and Executive Director of the University of California Center for Laboratory Safety, Craig Merlic is a nationally renowned expert in chemical and laboratory safety.
Weslene Tallmadge, Ph.D.
Gannon University

Throughout her membership on the ACS Committee on Chemical Safety, Dr. Tallmadge has supported several safety related projects, including a recent revision of Safety in Academic Chemistry Laboratories (SACL) and the college safety video series.
Imke Schroeder, Ph.D.
University of California, Los Angeles

A Research Project Manager at the UC Center for Laboratory Safety, Dr. Schroeder conducts research on laboratory safety, reviews academic safety programs, investigates laboratory accidents, and develops safety training for researchers. She also serves on the Editorial Board of ACS Chemical Health & Safety.
Michael B. Blayney, Ph.D.
Northwestern University

Michael Blayney is the Executive Director of Research Safety at Northwestern University. Throughout his career, Michael has developed laboratory safety training curricula.
Dominick Casadonte, Ph.D.
Texas Tech University

An ACS Fellow, Dr. Casadonte was department chair at Texas Tech when a significant accident occurred that led to substantive cultural change. He is a member of the Division of Chemical Health and Safety and has previously been a contributor to several ACS safety-related publications.
Susan Wiediger, Ph.D.
Southern Illinois University Edwardsville

While serving on the Safety Committee for the ACS Division of Chemical Education, including as chair, and the Education Chair for the St. Louis Section of the ACS, Dr. Wiediger has been involved in several safety related projects. These activities are synergistic with her education research program which includes studies on various aspects of teaching lab safety.
Course Outline
•  Handling Pre-Lab Uncertainty
•  Safety Culture
•  Lab Safety Tips
•  Lifelong Skills
•  Pre-Lab Preparation
•  RAMP-An Introduction
•  Recognizing Hazards
•  Assessing the Risks of Hazards
•  Minimizing the Risks of Hazards
•  Preparing for Emergencies
•  GHS Pictograms & exercises
•  Primary Container Labels & Exercises
•  Labeling Secondary Containers
•  Reading Hazardous Waste Labels
•  Safety Data Sheets
•  Appropriate Attire for the Lab
•  Belongings on the Bench
•  Fume Hoods
•  Emergency Equipment
•  Emergency Response
•  Proper Glove Use
•  In the Lab: Finish up Properly
•  Students' role in an Emergency
•  Handling a Spill
•  Large Spill
•  Cuts and Burns
•  Fire
•  Calling Emergency Personnel
•  Exercise: Clear Access in Lab
•  Best Practices in the Lab
This module consists of 15 questions that assess students' understanding of the previous modules.
This is a 10-question quiz. After completing this quiz with a score of 80% or higher, the learner is then allowed to click through to claim their certificate of completion.
Get Access
ACS Essentials of Lab Safety for General Chemistry is available to academic, corporate, and government institutions. This course can be easily integrated into your existing learning management system (LMS). Pricing is tiered based on the number of learners.

Access is available for course evaluation and review. Get started today.
Get Evaluator Access
My department is excited about incorporating ACS Essentials of Lab Safety for General Chemistry this academic year....The modules are designed to encourage learning, instead of students trying to rush through a video to find the correct answers for post-assessment quizzes....A great way to develop a more rigorous culture of safety and I am thrilled to keep the conversation going with students this semester!"
Caleb Tatebe, Ph.D. Assistant Professor of Chemistry and Biochemistry, Presbyterian College
The ACS is ushering in a new paradigm for teaching lab safety to undergraduate students in chemistry lab courses. The online course, which students can complete on their own time, incorporates accountability measures including a post-course test. Not only is the delivery method more modern in its approach, but the presentation of the content incorporates a philosophy that emphasizes a safety mindset. Rather than listing rules and requiring students to memorize them, it cultivates a safety culture in the lab environment. We have gained precious time in the laboratory early in the semester for experimental work now that we no longer have to show a safety video and administer an in-class safety test. And unlike a 25-year-old safety video, the online course will continue to be relevant with periodic updates."
Lynne A. O'Connell, Ph.D. Director of Undergraduate Labs, Boston College
Incorporating the ACS Essentials of Lab Safety as a precursor for our general science labs has given our students here at Belhaven University the opportunity to see the importance of safety before ever stepping foot into a lab!"
Ariel Kelley, Ph.D. Assistant Professor of Chemistry, Belhaven University
This course is exactly the kind of instruction that participants in the ACS Institute can come to expect. Students will come away with practical knowledge that lays the foundation for further safety training in keeping with their growth in understanding lab science. It is a remarkable and first-of-its-kind course developed by ACS. It promises to change safety instruction in teaching and research in fundamental ways."
Michael Blayney, Ph.D. Executive Director of Research Safety, Northwestern University
As a professor who coordinates general chemistry labs and assists with the preparation of teaching assistants for those courses, it is important to me to provide solid basic information in an engaging way to a population that may have very little prior lab experience. For instructors already heavily burdened, this module concisely presents best practices while also recognizing that there may be local variations in equipment or policies."
Sue Wiediger, Ph.D. Southern Illinois University Edwardsville
Safety is a core value of the American Chemical Society, and safety instruction is crucial to supporting students engaging in chemistry research. The course we have developed will serve the entire chemistry community, and ultimately create a better ecosystem for research."
James Milne President of ACS Publications
Frequently Asked Questions
We have assembled a set of commonly asked questions from the many chemistry instructors and safety professionals who have met with us personally or attended one of our webinars.
Visit our searchable FAQ page for ACS Essentials of Lab Safety for General Chemistry to find answers to questions about audience, time commitment, pedagogical philosophy, installation, evaluation, and more.
System Requirements
In order to use this course in the academic environment, it must be integrated into a learning management system (LMS). Our digital learning solutions are compatible with most commonly used systems such as those specified here. If you don't see your LMS or the file format that your LMS requires, let your ACS representative know and we will work with you to test your learning environment.
ACS Institute courses are provided in standard eLearning package formats for import into customer Learning Management Systems. The following package format options are available:
•  SCORM 1.2
•  SCORM 2004 3rd Edition
•  AICC
•  LTI 1.1
•  LTI 1.3v
Verified Learning Management System-Package Format Combinations
The following combinations have been tested and verified:
•  Moodle / SCORM 1.2
•  Canvas / LTI 1.1
•  Canvas / LTI 1.3
•  Blackboard / SCORM 1.2
•  Docebo / SCORM 1.2, SCORM 2004 3rd Edition, LTI 1.1